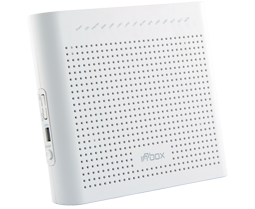 The VDSL2 Home Gateway Imnbox V51 supports delivery of all triple play services: internet data, Voice ober IP (VoIP) and IP video including bandwidth consuming HDTV. For packet based terminal devices it provides 5 Ethernet Gigabit capable ports as well as a wireless access point of latest standard 802.11N that brings relief to those troublesome wirings.

Additionally two ports for telephony services are provided using Voice over IP technology compatible with SIP server environments. With embedded firewall and IP sharing technology this Home Gateway delivers secure broadband Internet access to be shared by all connected clients.Furthermore two USB2.0 host ports are available to enable value-added features such as file server, FTP server, printer server or hub connectivity.
The VDSL2 Home Gateway Innbox V51 also embeds special Quality of Experience (QoE) monitoring client which enables on-line evaluation of data path all the way to HGW, which can reflect in significant lower OPEX of operator.
5
Go to the router's access page in your browser.
Open your browser and type http://192.168.1.1 into the address bar.
Then, you can see the login pop-up window. There are three different type of username to log-in.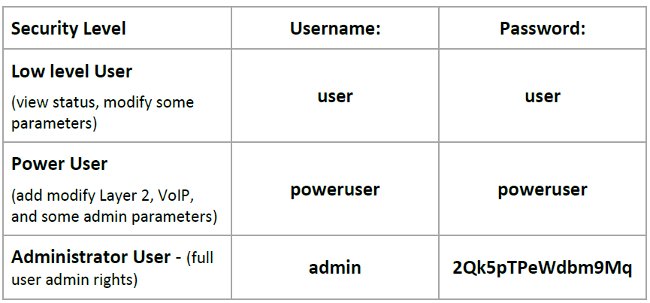 **Do not mix up the user name and password with your VDSL account user name and password which are needed for PPP connections.
7
Setup Layer2 Interface
Click Advanced Setup > Layer2 Interface > PTM Interface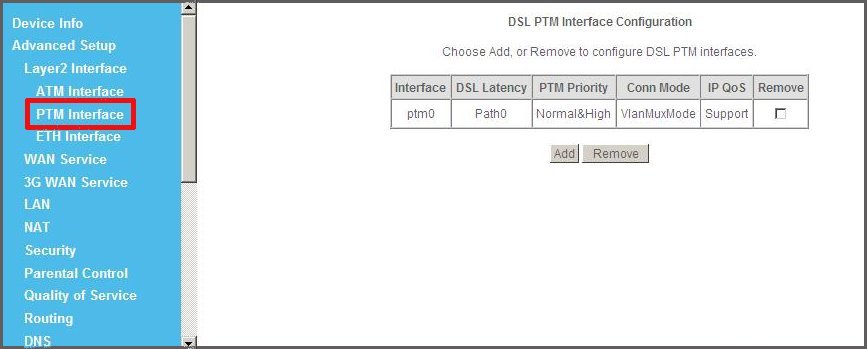 If you can see
ptm0
, you can jump to next step. Otherwise, press
Add
.
Select
Path0
as
DSL Latency
, and leave all other values as a default. Then press
Apply/Save
.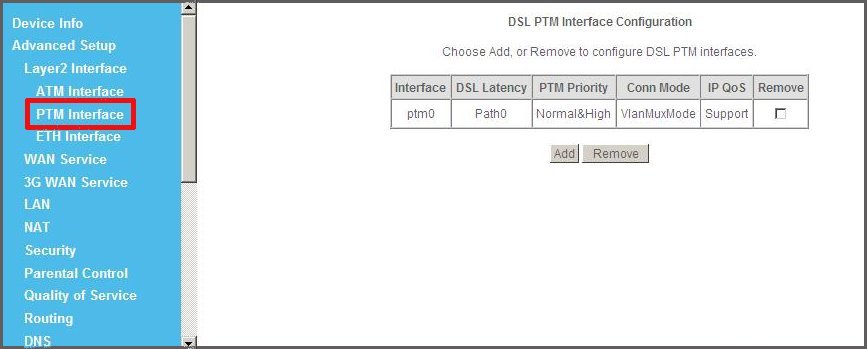 8
Setup WAN Service
. In the left side menu, click on the
Advance Setup
tab and then click on the submenu
WAN Service
to open up the configuration window.
You can see several pre-configured WAN Servces.

Click Edit button for ptm0.1. If ptm0.1 does not exist, click the Add button on the opened window to start activation of the VDSL interface. Select ptm(0_1_1) and click Next.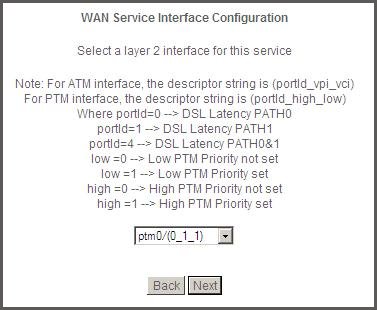 Select the
PPP over Ethernet (PPPOE)
option.
For Chorus VDSL2 Service, enter
- Priority: 802.11P = 0
- VLAN: 802.1Q = 10
Click
Next
to continue to the next screen.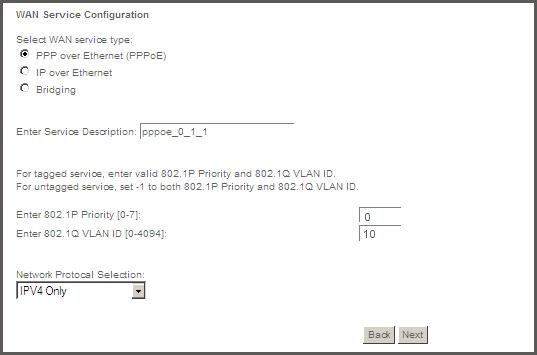 In the following section you will need to type in your Econofibre PPP credentials to activate you Internet connection with Econofibre Services.
- PPP Username
: Put your username for PPPoA authentication. (e.g., johnkey58)
- PPP Password
: Put the password for your username.
- PPPoE Service Name
: This is just service name. Put
Econofibre VDSL.
Authentication Method : Auto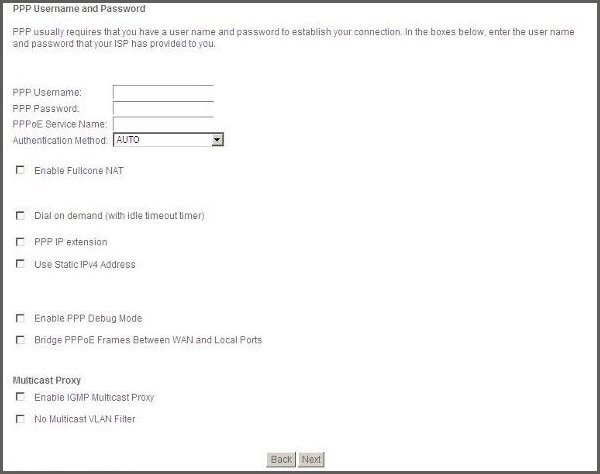 Setup Default Gateway.
Once you finish to setup PPP configurations in previous page, you can see
PPP1.X
in the box of
Available Routed WAN Interfaces.
Click
ppp1.X
to select and move it to
Selected Default Gateway Interfaces
Box in left by clicking
left arrow
(<-).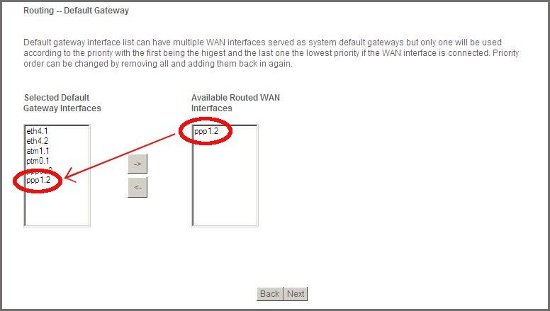 DNS Configurations
Select
Use the following Static DNS IP address.
And put the ip addresses of Econofibre DNS servers.
- Primary : 202.169.192.61
- Secondary : 202.169.206.10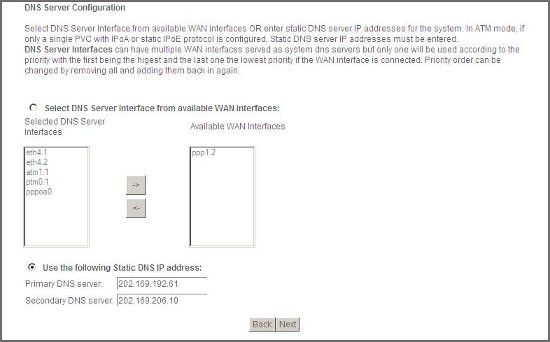 Then, click
Next
. And you can now see the
Summary
page for the configurations of
WAN services
.

If you click
WAN Services
again, you can see
PPP1.X
is added in the interface list.

9
Wireless Configuration.
The WLAN function is enabled by default. You can rename your wireless network name and create your own password in this page.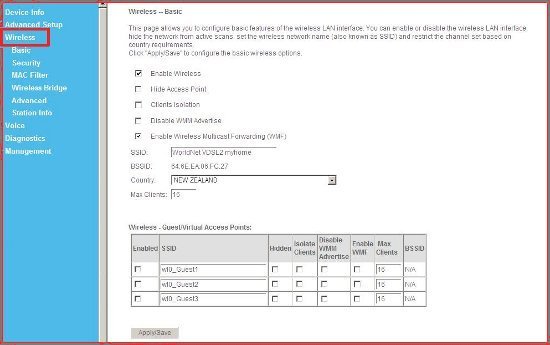 The default wireless name(
SSID
) is
Innbox-internet-XXXXX, you can change this name as you want. And this name will be seen in the available WIFI networks. Once updated, click

Apply/Save

.
Then, select
Security
in the left menu. In
Select SSID
pull-down menu, you can see the
SSID
you set in above.
- Network Authentication
: The type of authentication you want to use.
WPA2-PSK
is recommended
- Wireless Network Key
: You can change it to your own password for WIFI connection. You must keep it safely.
Click
Apply/Save
to continue.
10
Connect WIFI
. Once above configurations are done, next is to check the wireless connection. Search SSID you set at
step 9
from the available WIFI networks.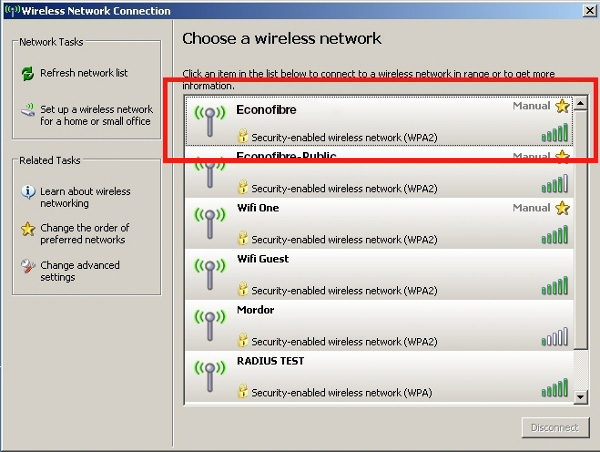 Put WIFI password you configured at step9 into popup window.